Previous Article
Next Article
8 Roles Brilliantly Played by Tabu That Makes Us Want To See More Of Her
Tabassum Fatima Hashmi, popularly known as Tabu in the film industry is a talented actress who has proved her mettle more than a couple of times. The fearless and successful beauty has time and again wowed us with her performances on screen. While the audience seems to resonate with the actress as someone who picks serious cinema, here's a list of movies of the actress that prove that she has tried almost every genre and excelled each time.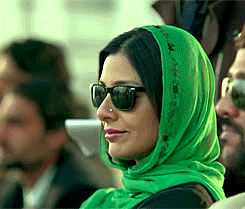 On her birthday here's thanking the actress for entertaining us for so many years and hoping we get to see a lot more of her in the coming years.
#1. Bazaar:
While many are unaware, Tabu has starred in the 1980 film, Bazaar, when she was just 14 years old.
#2. Hawa:
While the movie may not have done that well at the box-office, Tabu's performance was widely appreciated and is still one of her most memorable performances.
#3. Hera Pheri:
In this comedy riot (which makes you crack up even when you watch it today), Tabu was seen as the worried daughter and made us giggle with her appearance.
#4. Hum Saath Saath Hai:
She played the loyal and sanskaari bahu of the Alok Nath family in the movie and essayed the role perfectly.
#5. Virasat:
She amazed us all with her bubbly yet shy portrayal of a young village girl who later plays the understanding wife.
#6. Golmaal Again:
Her most recent performance in the blockbuster hit as a tantrik was extremely believable and made us chuckle with laughter.
#7. Cheeni Kum:
Playing the role of a 34 year old software engineer and the love interest of a 64 year old chef isn't easy but she did it flawlessly.
#8. The Namesake
She made her debut in International cinema with Mira Nair's Namesake opposite Irrfan Khan as the Bengali wife figuring out life in America.
With such a wide array of movie genres and having worked with talented filmmakers, Tabu is one of the finest actresses in the industry. Here's wishing her loads of luck on her birthday.
Liked what you saw on MovieNationBollywood?
Follow us on Facebook, Twitter and Instagram.
KEEP IN TOUCH!
Subscribe to our Newsletter
Don't worry, we don't spam