Previous Article
Next Article
8 Times Bollywood Superstars Worked With Really Young Actresses Which Only Proves Kangana's Point
Kangana Ranaut's collaboration with AIB was the talk of the town where she called out Bollywood for pairing up old actors with really young actresses. This is not a new fad in Bollywood where older actresses have to play mothers to actors older than them but some of these cases are just a little too much.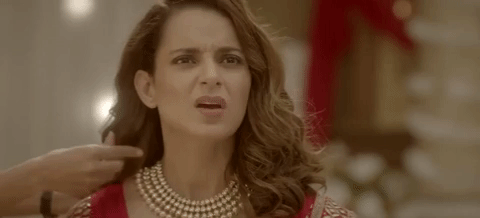 While we really like our fair share of movies with the Khans and Kumars of Bollywood, we would really not mind them casting the actresses a little closer to their age.
#1. Shah Rukh Khan and Anushka Sharma in Rab Ne Bana Di Jodi
Age probably does not matter when you're the Badshah of Bollywood. Anushka Sharma was 20 when she starred in her debut movie opposite a 43-year old Shah Rukh Khan. The chemistry was slightly awkward, and Shah Rukh ended up looking far too old even after all the make-up.
#2. Shah Rukh Khan and Deepika Padukone in Om Shanti Om
SRK plays a 30 something in the movie and while there is no platform like this movie for a debut, Deepika Padukone was a little too young at 21 to play his love interest even if SRK looked much younger.
#3. Salman Khan and Sneha Ullal in Lucky: No Time For Love
Salman Khan has definitely left no stone unturned. Although the actor's looks might be timeless, we clearly didn't want the 40-year-old actor romancing the 18-year-old debutante.
#4. Naseeruddin Shah and Vidya Balan in Ishqiya and Dirty Picture
The 60-year old actor and 32-year old actress did two movies together in 2010 and 2011. The massive age gap did not deter these actors from giving their best performances in both the movies.
#5. Sanjay Dutt and Prachi Desai in Policegiri
This film featured Sanjay Dutt and Prachi Desai, who was half his age, at only 25. The chemistry did not work out well, and the actress hasn't been seen in a lead role since.
#6. Akshay Kumar and Sonakshi Sinha in Rowdy Rathore
Sonakshi Sinha made her debut with Salman Khan and went on to do many movies opposite him and Akshay Kumar. It was perhaps only after R… Rajkumar that the actress got an opportunity to work with actors closer to her age.
#7. Aamir Khan and Anushka Sharma in PK
Once again, 26-year old Anushka Sharma shot a movie with a much older Aamir Khan, who was 49 at the time.
#8. Ajay Devgn and Tamannaah Bhatia in Himmatwala
Ajay Devgn was 20 years older than the 24-year old actress Tamannaah Bhatia in this movie. The chemistry was completely off and the movie did not do too well either.
Do you agree that this could have been avoided? Tell us in the comments below.
Liked what you saw on MovieNationBollywood?
Follow us on Facebook, Twitter and Instagram.
KEEP IN TOUCH!
Subscribe to our Newsletter
Don't worry, we don't spam